'Deliberate' fire hits Annan sports pavilion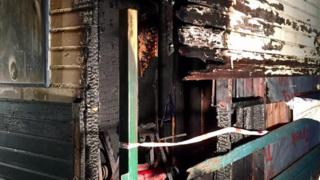 Police are investigating after a "deliberate" fire ripped through a tennis and sports pavilion.
Fire crews were called to the building on Seaforth Avenue in Annan at about 20:50 on Tuesday.
Flames had spread to the roof but four firefighters using breathing apparatus were able to bring the incident under control.
Police said a group of youths were seen in the area and have appealed for witnesses to contact them.
PC Emma Morgan said: "We are currently carrying out inquiries into this fire-raising and want to hear from anyone who may have been in the vicinity of the tennis pavilion last night.
"In particular we want to trace a group of youths, not further described, who were seen running from the area at the rear of nearby Annan Academy around this time.
"This was a deliberate act which could have had very serious consequences."
She said the building had not been badly damaged but if the fire had not been tackled in time it could have been destroyed along with its contents.
The pavilion - which dates back to the 1920s - is used by the Annan Youth Cycling Club.
'Real blow'
Coach Scott Irving said it the incident was "disappointing" for the group which has about 50 to 60 members.
The club has recently raised about £6,000 to refurbish the building but he said that money might have to be diverted now.
"The money that we did have allocated to do work is obviously going to be consumed in doing repairs that we hadn't planned for," he said.
"So that is going to limit the amount of work we can do to the exterior of the building.
"It is a real blow for the club."
Mr Irving praised the quick actions of a member of the public who reported the fire and also the fire crews who tackled the blaze.
He said that thanks to them the building had not been completely destroyed.
He added that the response to the incident from people in the area suggested they would bounce back.
"Whilst it is a setback for the club it is heartening to see that there is a desire and a support out there to see the club succeed," he said.
"So hopefully through community spirit we can get the pavilion back to its former glory."