Witness plea over fire at Carnsalloch House near Dumfries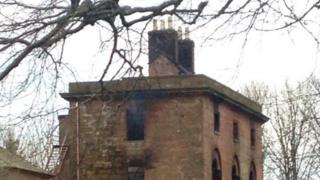 Police are appealing for witnesses following what they describe as a "suspicious" fire at a derelict historic house near Dumfries.
Several fire appliances were called to the scene at Carnsalloch House to tackle the blaze on Friday.
Emergency services were sent to the incident at about 23:15 but the building has been extensively damaged.
A joint Police Scotland and Scottish Fire and Rescue Service investigation into the cause is ongoing.
Det Insp Bryan Lee said: "Carnsalloch House is an isolated property to the east of Kirkton village which has been unoccupied for some time.
"However, I am aware that local youths frequent the grounds of the property and there is information that in the past homeless people may have sheltered there.
"There is no information that anyone was sheltering within the house at the time of the fire, however, due to the condition of the building, neither the fire service nor the police are able to get access."
He said they were keen to speak to anyone who had recently been in or around the property or had any information which might assist the police with their enquiries.