Galashiels and Hawick street pastors aim to help cut crime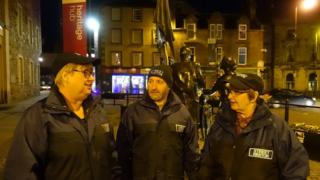 Street pastors are to visit pubs and nightclubs in the Scottish Borders in a bid to help reduce crime in the region.
The faith-based initiative sees trained volunteers from different denominations patrol streets at night to assist members of the public.
The scheme - backed by Police Scotland and Scottish Borders Council - will run initially in Galashiels and Hawick.
The street pastors already cover more than 270 towns and cities throughout the United Kingdom.
They hope to have patrols of three or four on the streets of Hawick and Galashiels on a Saturday night by early summer.
Sandy Scrimgeour, of the Ascension Trust (Scotland) which provides their training, said it was hoped the initiative could help in other towns during the Borders summer festival season.
Councillor Donald Moffat said the scheme had shown it could reduce crime by a "significant percentage" in other parts of the UK while police described it as a "valuable service".
"Their early intervention may mean that an individual who would subsequently require police or medical assistance is able to get home safely, and I welcome their deployment within the region," added Ch Insp Andy McLean.