Scottish resilience centre opens in Dumfries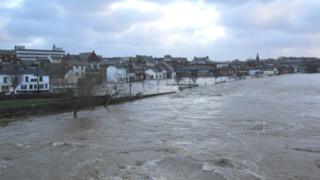 Scotland's National Centre for Resilience to help improve the response to weather-related emergencies is being officially opened in Dumfries.
The unit is based at the University of Glasgow's campus on the Crichton Estate in Dumfries.
It will draw together expertise from a variety of fields to enhance emergency planning.
Environment Minister Aileen McLeod is to carry out the official opening of the centre.
Dumfries was selected as the site for the facility due to the region's experience in dealing with such issues.
Research will be carried out to determine the best way to identify and provide support to vulnerable people during weather-related emergencies.
'Important development'
Other specific threats such as flooding, landslides and storm force winds will also be examined.
The work will be carried out in conjunction with a range of agencies including the Met Office and Scottish Environment Protection Agency.
The University of Glasgow's Dr Carol Hill said there were a lot of groups involved in delivering the scheme.
"It is a really important development for the campus - Glasgow University is hosting it because it has got experience of delivering on collaborative projects," she said.
"It is obviously important for our profile in the region.
"But the important thing is that this is a collaborative initiative involving lots of partners and we, if you like, have a facilitation and co-ordination role."
Dr McLeod said severe weather could "disrupt the lives of individuals and communities".
'Extreme events'
"Preparing society to help with adaptation measures is key if the impact of climate change on communities - particularly those most vulnerable - is to be reduced," she said.
"The National Centre for Resilience will be Scotland's first resilience 'centre of excellence' focusing on natural hazards and how Scotland can become more resilient towards them.
"It will help improve our understanding of the impact of natural hazards, such as extreme weather events on communities, and provide support to them including practical tools kits, learning and exercise opportunities."
Alan Motion of the Met Office said it was happy to be part of the project.
"The centre provides a platform for us to work with existing and new partners across Scotland," he said.
It was also welcomed by David Faichney from Sepa's flood unit.
"This is a positive step towards co-ordinating a wide range of quality information, knowledge and understanding across many agencies and partnerships who work to keep Scotland running during adverse events," he said.