Scottish Borders £92m digital deal promises 200 new jobs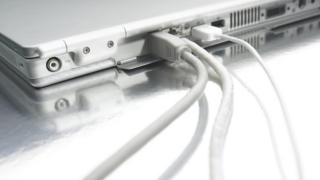 A £92m deal with a global IT firm promises to create 200 new jobs in the Scottish Borders.
As part of the deal, CGI will create a Scottish Centre of Excellence in the region.
Scottish Borders Council described it as the "most significant" inward investment proposal the region had ever known.
It said the deal had been enabled by the Borders Railway which officially opened last year.
The agreement sees SBC award its digital services contract to CGI.
The 13-year contract will provide the authority with "state-of-the-art technology to deliver excellent customer services and streamlined systems".
The council said it had the potential to inject more than £100m into the local economy.
'Exciting opportunity'
Apart from a centre of excellence being created in the Borders, the deal will also mean that the council's existing 49 information and communications technology (ICT) staff will remain in the region.
There had been concerns that they could be sourced from outside the area.
Council leader David Parker said: "This is a landmark deal for the Scottish Borders as we join forces with one of the leading IT companies in the world to offer a once-in-a-generation transformational opportunity for the region.
"For CGI to choose the Scottish Borders to base their second UK service centre is a genuinely exciting opportunity.
"Not only does it mean our existing ICT staff will remain in the Borders, but it will also bring a wide range of benefits and opportunities."
Tim Gregory, UK president of CGI, said it was delighted to be involved.
"As part of our commitment to delivering on our plans we will be creating an ICT delivery centre of excellence in the region which will mean up to 200 new, high-value jobs for the area including digital, cyber security and modern apprentice roles," he said.
"CGI is committed to working with a diverse range of partners to help bring flexible, cost-effective digital solutions to local and central government across the UK."
'Huge boost'
Berwickshire, Roxburgh and Selkirk's SNP MP Calum Kerr said: "This is a fantastic announcement for the region and I warmly congratulate SBC and CGI for in putting it in place.
"It's a highly imaginative solution which will bring jobs and better IT - both of which we really need - across the Borders.
"As someone who worked in the telecoms sector for 20 years before entering politics, I can see the scale of the ambition of this project.
"A total of 200 new jobs and £100m for our local economy is a huge boost and will help to reshape our economy."
Ettrick, Roxburgh and Berwickshire's Conservative MSP John Lamont said: "Today's announcement has the potential to provide a major new source of employment for the Borders.
"Given the challenging time that Hawick has experienced recently, I strongly believe this is a fantastic opportunity for the council to do its bit and bring new investment and new jobs to the town.
"Hawick not only has the space and facilities for a major call centre, but it has a willing and enthusiastic work force.
"Basing the new centre here will have knock-on effects for other businesses as well and bring further investment, which can only be good for the town."