Galloway and Southern Ayrshire biosphere set for starring role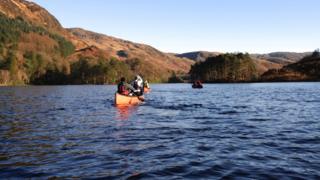 Scotland's first Unesco "biosphere" in Galloway and Southern Ayrshire is to be recognised with a short film premiere at a global conference in Peru.
The project has been hailed as a "world leader" in social enterprise and sustainable development.
Joan Mitchell, who chairs the biosphere scheme, said they were "very proud" to be featured.
The film will be screened for the first time at Unesco's fourth World Congress of Biosphere Reserves next week.
It focuses on the Adventure Centre for Education (ACE) social enterprise which encourages people to make the most of the natural assets of the area through a range of outdoor pursuits.
Ms Mitchell said the screening could highlight the biosphere's work in "the innovative sustainable development of social enterprise to promote and protect our outstanding natural environments".
"Sustainable development has been an overarching goal of the United Nations for decades now, but to respond effectively to new social and environmental challenges it is widely acknowledged that a fresh approach is required," she said.
"We're absolutely delighted that our approach in this area is being used as an exemplar to shape the action plan for biosphere reserves for 2016-2025 and benefit outstanding natural environments globally."
Unesco biosphere status recognises areas with "outstanding natural landscapes" around the world.
It describes them as "sites for experimenting with and learning about sustainable development".