Dumfries Infirmary ward shut by norovirus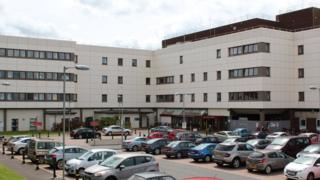 A ward at Dumfries Infirmary has been closed to admissions due to an outbreak of norovirus.
NHS Dumfries and Galloway said a number of patients on ward 16 had experienced symptoms consistent with the winter sickness bug.
Infection control manager Elaine Ross said the priority was "patient, public and staff safety".
She said visiting restrictions might cause "some frustration" but would help stop the infection spreading.
"Where circumstances are such that relatives are concerned about the need to visit their loved ones in ward 16, they are asked to contact the ward before coming to the hospital," she said.
"We cannot stress enough how important it is to wait 48 hours after experiencing any symptoms of nausea, diarrhoea or vomiting before visiting patients in hospital.
"All members of the public visiting other areas of the hospital are asked to comply with the hand hygiene and infection control measures in place."