Dumfries leisure centre repairs wrangle in final stages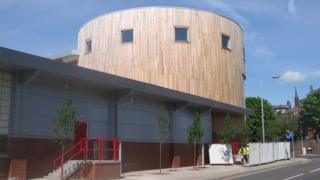 A council has said it hopes an out-of-court settlement can be reached "very soon" in a long-running wrangle over repairs to a £17m leisure centre.
The DG One facility in Dumfries has been shut for more than a year awaiting major remedial works.
Dumfries and Galloway Council and contractor Keir Construction are in talks to agree a financial settlement.
A spokesman said a further update on the situation was expected "in the next few days".
The centre opened to the public in May 2008 but has been dogged with problems which ultimately led to its complete closure in October 2014.
Confidential process
The council started legal action against its contractors with repairs expected to take 18 months to complete at a cost of anywhere between £6m and £10m.
Temporary facilities have been put in place in the town in the meantime.
It now appears the mediation process between the local authority and the construction firm may be about to be concluded.
"Discussions between our council and Kier have been positive and are now in the final stages and it is hoped that a settlement will be agreed very soon," a spokesman said.
"The mediation process is confidential and, in the circumstances, it would not be appropriate to say any more at this point in time."