Portpatrick harbour land £1 sale suggested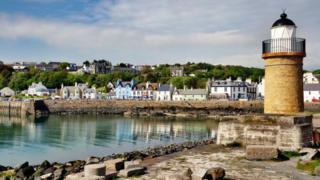 A council is being asked to sell a strip of land to the community for £1 to help complete its hopes of overhauling Portpatrick harbour.
A community share offer was successful in raising the funds to buy the harbour last year.
The Portpatrick Harbour Community Benefit Society (PHCBS) now wants to buy council land nearby.
The move would allow it to "develop and enhance" the commercial viability of the area.
Dumfries and Galloway Council is being asked to hand over land it currently maintains as a picnic area for the nominal sum of £1.
The local authority has estimated the value of the land to be about £15,000.
Regulations mean that it must thoroughly assess the benefits of the proposal before it can agree to the sale deal.
'Empower communities'
Councillor Marion McCutcheon, who chairs Wigtown area committee, said: "One of the council's top priorities is to be an inclusive council by ensuring that local people and communities are at the heart of our decision making.
"Providing we agree that this is a viable and sustainable project, by transferring ownership of this strip of land at ward shore we will be ensuring that the community are able to utilise whole of the harbour area.
"We must empower our communities to make the most of their assets and the success already achieved by PHCBS is to be commended."
She said it was "heartening" to see the community "taking charge of their own future and economic development".
"If the transference of this additional piece of land will add to their success, then it must be something we consider very carefully," she added.