Robert Smail's Innerleithen print works marks 150th anniversary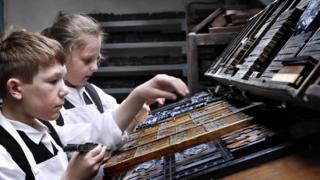 The last remaining Victorian letterpress printers in the UK is to mark its 150th anniversary with a year-long programme of events.
On 2 March 1866, Robert Smail signed the deeds for his works on the High Street in Innerleithen in the Borders.
The site is now owned by The National Trust for Scotland.
It reopens to visitors later this month and plans a series of events over the next 12 months to celebrate its long history.
Gen Harrison, property manager and compositor at the site, said: "For us, 2016 is all about showcasing the rich history of this print works, its national significance and its continuing role within this town.
"Robert Smail's is the only functional Victorian letterpress printers in the UK.
"We utilise machinery that is over 100 years old and as a conservation charity, a large element of our role is preserving this important part of our industrial heritage and the traditional skills of letterpress printing."
The Smail family kept copies of almost every item ever printed which form part of an "incredible archive" tracing changes in letterpress design as well as industrial and social history.
The works reopens to the public on 25 March while a free exhibition entitled Future/Past: 150 Years of Robert Smail's Printing Works will run at the nearby St Ronan's Wells visitor centre from 9 April.
Other highlights of the anniversary programme will include the Ink Differently exhibition featuring letterpress posters created by Edinburgh Napier University students on the attraction's historic presses, and talks and workshops on a range of topics.