Smell complaints led to Selkirk store cannabis haul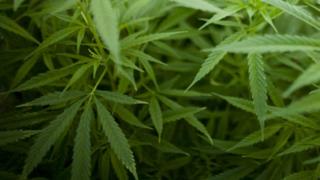 A court has heard how complaints about the smell coming from a property led to the discovery of a cannabis haul in a former Selkirk convenience store.
Hang Phan Vo, 23, an illegal Vietnamese immigrant, had previously admitted being involved in producing and supplying the drug.
The offence was committed on the town's Curror Street between 24 August and 26 October last year.
He was jailed for three years, backdated to October 2015.
Edinburgh Sheriff Court heard how Vo had entered the UK illegally in 2012, seeking asylum, but had absconded.
On 26 October last year, the police, having received reports of the smell coming from the Selkirk property, forced entry.
Fiscal Depute Graeme Jessop said they spotted the accused on the upper floor. He ran along a hallway into a bathroom.
"A hole had been cut in the floor and the accused climbed down a ladder into the commercial premises" he said.
"He then left by another escape hatch into the back garden".
Nobody else was found in the property.
Two of the upstairs rooms were full of cannabis plants and one was being set up as another growing area. Plants were also being grown in three rooms downstairs.
'Realistic alternatives'
Mr Jessop said it was "industrial cannabis cultivation" which showed skill and knowledge.
More than 500 plants were discovered which could fetch between £54,000 and £108,000 if sold wholesale or more than £150,000 if sold in smaller deals.
Defence solicitor, Ed Hulme, said his client owed money to a gang and had stayed in London initially, but was sent to the property in Selkirk.
"He was told to stay inside and had telephone contact," he said. "Someone came to the flat once a month.
"He soon realised what he was doing was illegal, but he had no realistic alternatives."
Sheriff John Beckett QC told Vo he understood the conditions under which he had committed the crime.
"However, such is the gravity of these crimes, where you have been involved in producing and supplying cannabis in a very large scale, there is no alternative to a custodial sentence," he added.
"The starting point is four years, but I will reduce the sentence because of your plea of guilty.
"You will go to prison for three years."