Kirkbean family back Glasgow children's hospital microscope campaign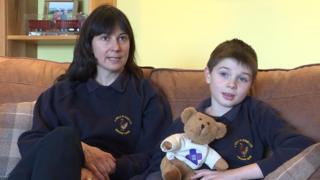 The family of an eight-year-old boy whose leg was severed in an accident have backed a campaign for the purchase of a hi-tech "surgical microscope".
Lewis Kelly, of Kirkbean, near Dumfries, had his right leg amputated at the knee after being run over by a grass mower at the family farm.
His family said the microscope could have made a "huge difference" to him.
A campaign now hopes to raise funds to buy the equipment for the Royal Hospital for Children in Glasgow.
Glasgow Children's Hospital Charity - the new name for Yorkhill Children's Charity - has launched the appeal to fund the £150,000 microscope.
It could be used in a range of procedures including facial reconstruction, cleft surgery, tumour removal and lower limb reconstruction.
It would be the first of its kind in a children's hospital in Scotland and only the second in the UK.
Lewis' mother, Emily Davidson, said he did not dwell on what happened four months ago and was doing pretty much everything he did before the accident.
She had nothing but praise for the surgeons who treated him but welcomed the launch of a campaign to fund a surgical microscope.
"I think I am correct in saying they got one of these microscopes from another hospital on one occasion to look at Lewis' leg and his arteries and veins," she said.
"On other occasions, when they weren't able to get this microscope, Lewis actually had to go to hospital to theatre and be operated on."
She said the equipment could be a big help to families going through similar experiences.
"It will save a lot of trauma and worry and anxiety for both the children and their parents," she said.
"I think it will speed up looking into childrens' various injuries.
"It will be an amazing asset for the hospital to be able to purchase one of these microscopes."
The loss of part of his leg is proving no barrier to Lewis himself who is now healthy and active - regularly participating in a wide range of activities and sports.
He said having to spend so much time in hospital was difficult and he was glad it was all behind him.
"It was really hard and boring - you just have to do it and get on with it," he said.
"Now I don't need to do any more operations because I have done everything."
'Great benefit'
Consultant Craig Russell, who led the surgical team, said that while the outcome would have been the same, a surgical microscope would have helped Lewis' treatment and cut the number of operations he had to go through.
"Having a reconstructive, surgical microscope with fluorescence will enable surgeons like myself to know that the tissue they are moving around the body, has a sufficient blood supply before and after the 'move'," he explained.
"This will be a great benefit to our surgical procedures, and often minimise the need for repeat surgery.
"We would like to encourage and thank everyone across Scotland for supporting Glasgow Children's Hospital Charity and their appeal to help support babies, children and young people treated at Scotland's largest children's hospital."