Spring Fling studio artists revealed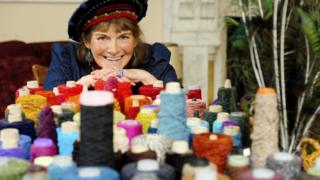 Nearly 100 artists and makers will take part in the Spring Fling open studio event in Dumfries and Galloway in May.
The 14th edition will see painters, potters, photographers, jewellers, print-makers, fabric designers, glass-makers and others participate.
Visitors can tour studios across the region between 28 and 30 May.
Special colour-coded routes have been created for the event which has been estimated to generate more than £1m for the local economy.
Clare Hanna, director with Upland which runs Spring Fling, said: "Dumfries and Galloway has a huge reputation for the quality of its contemporary visual artists and craft makers - and Spring Fling is a chance to meet some of the finest and talk to them in their studios and homes.
"The range of people we have taking part is amazing and, as ever, we are looking forward to welcoming many thousands of visitors to enjoy the bank holiday weekend touring studios and enjoying our beautiful countryside."
Helena Ward of Creative Scotland said Spring Fling was an "invaluable opportunity" for artists and makers to develop their skills.
"The event provides the public a rare glimpse inside the workplace of artists and makers in their communities and allows them to explore what they do," she said.
The full list of artists and makers is available on the Spring Fling website.