Council plan £77,000 fund for events and festivals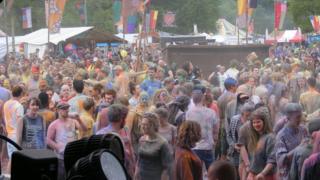 Councillors are to be asked to approve thousands of pounds worth of funding for nine events in Dumfries and Galloway.
Local authority officials want to invest £77,000 in festivals and sports events across the region.
The Eden Festival and Electric Fields would be among the largest beneficiaries.
Council officers want to promote the region as "Scotland's summer music festivals destination".
In a report to councillors they revealed that Electric Fields, which is held at Drumlanrig Castle every August, had received significant new investment.
It was likely to help the event grow into a "nationally significant" summer festival in the next five years, the report said.
They report also claimed council funding had helped events attract private sector investment, and that summer music festivals could be worth £8m to the regional economy by the end of 2018.
---
Grants recommended for events in Dumfries and Galloway
Pipe Bands Competition in Annan £5,000
Eden Festival £12,000
Electric Fields £12,000
Galloway Hills Rally £9,000
Lockerbie Jazz Festival £7,000
Muckle Toon Adventure Festival £9,000
Sanctuary £4,000
Trophy D'Ecosse £7,000
Wild Winter Film Festival £12,000
---
Many other events also attract visitors and boost the economy of the region, according to the officials.
They said a rejuvenated pipe band competition in Annan contributed £120,000 to the town, while the Galloway Hills Rally boosted the region's economy to the tune of £157,000.
And the Trophy D'Ecosse, a skating competition held in Dumfries every February, secured more than 2,000 bed nights in local accommodation for competitors, their families, coaches and officials.
Councillors have already approved funding worth £213,500 to be split between the Big Burns Supper, the Wigtown Book Festival, Spring Fling, the Dumfries and Galloway Arts Festival, the Tour of Britain and World Championship Ice Hockey.