Laser light shone into police vehicle in Kirkcudbright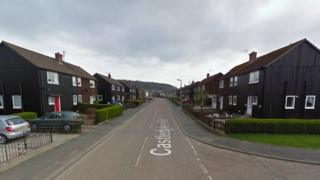 Police have issued a warning after a laser light was shone into a patrol car in Dumfries and Galloway.
Officers were driving along Castledykes Road in Kirkcudbright on Wednesday night when they were targeted.
They stopped the vehicle immediately, Police Scotland said. Although they were not affected by the bright green light, it caused a "degree of distraction".
Sgt Dale Graham said the incident could have had "very serious consequences".
He added: "The dangers of such a reckless act should not be underestimated.
"This act could have had very serious consequences and anyone caught using such a laser light in this way will be reported to the procurator fiscal."
The incident happened shortly after officers were called to investigate the use of a light being shone into the windows of houses.
Residents from homes in the town's Dovecroft reported the incident at about 20:30 on Wednesday.
Earlier this week a flight heading to New York turned back to London Heathrow Airport after a laser beam was shone in the cockpit.
The chief pilot of the Highlands' search and rescue helicopter also described how he was targeted by a laser light during a search over the River Ness.