'Risqué' photo warning to Dumfries and Galloway pupils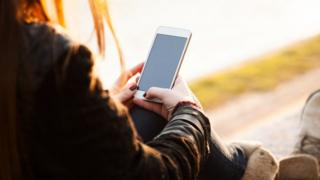 Police have issued a safety warning after a number of young girls in Dumfries and Galloway shared "risqué" photos with people they met online.
Some of them have then faced demands for money with the threat of sharing the images with the victim's friends.
One secondary school has sent a letter home to parents after police were called in to investigate contact between a pupil and a man in England.
Police urged children not to share "compromising images" online.
They asked them to ensure they stayed safe online and to "be wary" of making friends with people they did not know.
PC Alistair Hope said they worked closely with schools on the issue.
'Inappropriate images'
"At present, we're seeing examples of people who are sending risqué photographs or images of themselves to strangers," he said.
"As a result of that they are becoming victims of people trying to extort money from them.
"We have also seen a number of examples of young people - including young females - who have been sending inappropriate images of themselves to strangers they have met online."
He asked parents to keep a close eye on what their children were viewing online and what apps they were using.
He also suggested using any parental locks available on their home wifi network.
He added that people should not accept friend requests from people they did not know and should not send them any pictures.