Dumfries big snows: Your memories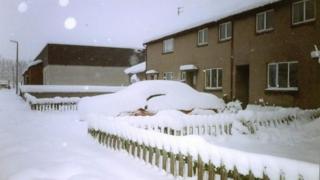 Twenty years ago Dumfries and Galloway experienced its deepest February snowfall on record.
Here are some of your memories of the impact of the day.
---
Paul Currie emails: I would have been 13 at the time living in Closeburn and attending 1st year at Wallace Hall Academy. I remember waking up in the morning for school and looking out my window to see it had started snowing... all of a sudden I felt a "sore head" come on really strong (there was no way I was going to school and missing fun in the snow!) So I pulled the wool over my mum's eyes and stayed at home. It wasn't long before all my friends were sent back home and my "sore head" got better. We all had a great day and between all the kids in the village we built a huge igloo from rolling up the snow, I'm sure we could fit half a dozen kids in it! We spent all day outside as there was no point being inside with no power! I've never witnessed snow so deep... it was up over my knees!
Abbie Rankin emails: I was 6 years old in primary 2 at Calside Primary on the day of "The Big Snow" - say those words and everyone in Dumfries age 24 and over knows exactly what you're talking about. I remember my papa came and got me at the school door and I think had to carry me most of the way home it was so deep and I was wearing a skirt and knee high socks! I remember we then went up to my house where he helped me and all the other kids in the street build an igloo in my front garden. Great memories!
Andrew Love emails: 12 noon till 10.30 next day in my car next to Abington. First 6 miles car passengers taken into Lockerbie. We were given a cold can of juice and a sandwich about 11pm. Traffic turned next morning back North. I had been heading to Carlisle to sell shampoo...
Michelle Martin-Wallace, via Facebook: I gave birth to my son on the 6th Feb 1996, and the only way his father could attend the birth was by TRACTOR. The snow was too deep for cars...
Scott Hamilton emails: I lived in Ae Village at the time - I was in Primary 7 and both teachers lived in the town so school was closed for a whole week. It's still one of my fondest memories of the place. Nobody could get in or out of the village for five days so we spent the days sledging and warming up next to the coal fire. There was no power so all the food had to be cooked on our old Rayburn in the kitchen. It really brought out the sense of community in the place, a snapshot of a different time.
Lee Carruthers, via Facebook: I was at Dalbeattie High School at the time, we all got pulled into the hall in the morning and we were told those kids from outside Dalbeattie (Palnackie etc) were going home and a massive grumpy groan arose from everyone else, 20 mins later we were told to go home, and we made snow angels on the way home.
Stevie Ross emails: Getting all the way from Eaglesfield to my Johnstonebridge home only 5 foot from parking up, I had to dig my stuck car to park it!! Also truckers stuck for days on a blocked M74.
Paul Rush emails: I remember the snow very well that year. I was a young father and my 18 month old daughter was able to walk easily on top of the snow whilst I struggled in the snow. My car was buried for days so I had to walk to work at local hospital although they provided 4x4s to usher as many staff to hospital as most were stranded at home. I remember the ambulances struggled to reach patients so the Territorial Army stepped in to assist. If I recall correctly the Territorial Army had to become midwives as a lady was in a hurry to give birth in the back of their army ambulances on way through snowy roads. Other vulnerable patients in the community were difficult to reach, I was told 4x4 vehicles were finding it easier to use the old (paddy line) to get access to their houses. There was a bread shortage as most supermarket loafs are baked in Glasgow so no supplies could get through but you adapted by making your own. A tighter community spirit was evident as neighbours looked after the elderly, cleared paths etc. No help from mobile phones or internet then. A proper winter's day in south of Scotland.
Sean Barbour emails: My wife's headteacher, at that time, lived in Edinburgh and commuted every day. Everyone told him he had better go before the roads blocked. "No" he said "It'll be fine." He set off too late and so only got as far as Moffat where he was marooned for the next three days.
Colin Ferguson, via Facebook: Stranraer got rain for 2 days. Yet 6 miles away up on the hills above Cairnryan it was nearly 2ft deep. Stranraer got some snow on the Wednesday.
Compiled by Giancarlo Rinaldi