Scottish Borders Council plans to cut 130 posts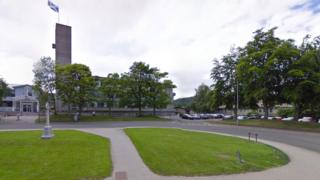 The leader of Scottish Borders Council has said 130 posts will be cut in the financial year ahead.
David Parker said the local authority hoped to keep any compulsory redundancies to a minimum.
The administration - a coalition of SNP, Lib Dem and independent councillors - is set to outline its budget proposals for 2016/17.
Mr Parker confirmed that they would see 130 posts "come out of the organisation".
The council currently employs about 4,500 staff.
"We expect to be able to achieve most of that, or all of that, by voluntary means," he said.
"In a large scale organisation there will always be a small number of compulsory redundancies - you will never be able to completely avoid that.
"But we don't use compulsory redundancy as a tool to reduce the workforce as it is expensive and it is not something that really is worthwhile and we won't be using that this year."
Mr Parker said the proposed savings would try to protect frontline services.
'Key areas'
"I think the council is in a better place than most local authorities in Scotland," he said.
"We won't be closing libraries, we won't be closing swimming pools, we won't be doing some of the more difficult things that other local authorities have done.
"A number of our changes are around how we deliver services rather than cutting those services."
The administration said education, flood defences and economic regeneration were the "key areas" of the budget against a "challenging financial background".
Among the areas it highlighted in its budget proposals were a council tax freeze, maintaining teacher numbers and passing on £5.3m to a new health and social care partnership.
The administration also lined out a string of projects as part of its three-year capital spending plans.
SBC's capital programme 2016/17 to 2018/19
Project
Cost
Roads, bridges and energy efficient lighting
£6.8m
Selkirk flood protection final phase
£9.4m
Hawick flood protection initial design
£3.2m
General flood prevention
£0.7m
Waste management (including Langlee transfer station)
£7m
Other land and property
£2.7m
New Langlee Primary
£10.5m
New Broomlands Primary
£7.8m
Refurbished Duns Primary
£3m
Other school works
£8.4m
Sports facilities
£4.6m
Economic regeneration
£5.1m
ICT investment
£8.6m
Jim Clark Museum
£1.4m
Sir Walter Scott's Courtroom
£1.1m
Wilton Lodge Park
£1.2m
Borders Gateway/Great Tapestry of Scotland project
£5.8m