Scottish farm flood funding scheme opens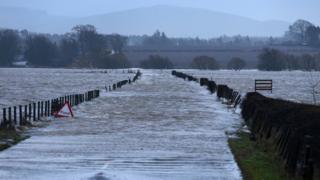 A grant system to help farmers across Scotland to repair man-made floodbanks has opened for applications.
The Scottish government scheme was announced earlier this year with £1m set aside covering nine different local authorities around the country.
It said it had worked with NFU Scotland to try to deliver "targeted help with minimal red tape".
Rural Affairs Secretary Richard Lochhead said repairs up to a cap of £20,000 per business could be funded.
The Agricultural Floodbank Repair Grant Scheme (AFRGS) covers the Dumfries and Galloway, Scottish Borders, Perth and Kinross, Stirling, South Lanarkshire, Aberdeenshire, City of Aberdeen, Angus and East Ayrshire council areas.
Mr Lochhead said a recent visit to a farm in Perthshire had highlighted the "jaw dropping" scale and impact of the flooding.
He said the Scottish Environment Protection Agency (Sepa) would take a "pragmatic approach" while farmers tried to get things "back to normal".
'Hardship and damage'
NFUS President Allan Bowie said: "Flooding has taken a terrible toll on farmland across Scotland with the severity and ferocity of the floods taking out many long-established flood defences.
"This scheme, requested by NFUS, offers welcome support to flood-hit farmers.
"I urge those with damaged floodbanks to apply before the deadline closes at the end of February with applications to be approved shortly after."
He said it was important to note that grant approval would be needed before starting any repair works.
Sepa chief executive Terry A'Hearn said: "Sepa understands the hardship and damage caused by the recent floods.
"I welcome the introduction of this grant scheme, and I'd like to take this opportunity to clarify that Sepa does not need to be contacted for the repair of man-made flood banks.
"Our officers continue to be on standby to assist farmers where required."