Borders Railway passes 500,000 passenger mark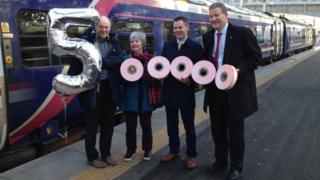 The Borders Railway between Tweedbank and Edinburgh has passed the 500,000 passenger mark less than five months after it opened.
The line opened to the public in September last year.
More than 125,000 people used it in its first month and the total has now gone past half a million.
Transport Minister Derek Mackay was at Edinburgh's Waverley Station for an event to mark the landmark figure being reached.
Before the multi-million pound line opened, forecasters predicted it would carry almost 650,000 passengers a year.
It is currently on course to exceed that figure by quite some margin in its first year of operation.
ScotRail Alliance Managing Director Phil Verster said it was clearly two-way traffic.
'Good news'
"The passenger flows we are seeing on the Borders Railway are both towards the Borders as well as inwards towards Edinburgh," he said.
"Clearly we are seeing lots of tourists that are using the service from Edinburgh and out to the Borders.
"And then we see a flow from the Borders from commuters coming into the city of Edinburgh itself during the morning peaks and the evening peak."
Mr Mackay said the level of service usage had been impressive.
"I think we are surprised - we knew it would be a success but half a million passengers since the beginning is good news and over the forecasts that were predicted," he said.
"They are busy trains and people are using them."
Sarah Eno and Andy Swales, from Selkirk, got off the train at Waverley to be told they were the passengers who took the service over the 500,000 passenger milestone.
The couple believe the success supports the case for extending the line further, and potentially into England.
"It deserves to go at least as far as Hawick because that's the biggest town in the area, and travel south to England isn't very easy so it would be great if it went all the way through to Carlisle," said Mr Swales.
Mr Verster said expansion plans were something that could be looked at.
'Exciting possibilities'
"We've had challenges to maintain enough carriages on this service because it has been popular, but our future plans are to add carriages to our overall fleet and we will strengthen services continuously to meet demand," he said.
"Every opportunity to extend the railway to Hawick, and even further to Carlisle, must be evaluated and could hold very exciting possibilities for us."
David Spaven, who has written a book about the railway, said it was wrong to say nobody had expected the service to reach 500,000 passengers so quickly.
"Rail campaigners certainly did, when they saw the ludicrously pessimistic forecasting undertaken four years ago by Transport Scotland, the Scottish government agency," he said.
Mr Spaven said those forecasts had prompted a reduction in the amount of double track on the route with a knock-on effect on timetable reliability.
He said it had left a "sub-optimal railway for the foreseeable future" and said he hoped the Scottish government would learn lessons from that in future.