Drug courier Mark Hutchison jailed over Lockerbie heroin haul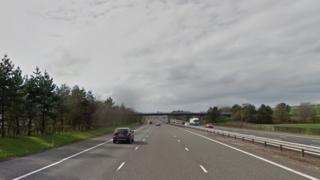 A drug courier from Larkhall caught near Lockerbie with a consignment of heroin being brought into Scotland from Liverpool has been jailed.
Mark Hutchison, 35, was found with 3kg of the drug with a street value of £210,000 on the A74(M) in April 2014.
Police discovered a plastic bag packed with drugs in the boot of his car after they stopped him on the motorway.
A jury found him guilty of being concerned in the supply of drugs. He was jailed for six years.
Passing sentence at the High Court in Livingston, Lord Armstrong told Hutchison: "I accept that in relation to the journey to Liverpool your role was that of a courier rather than a dealer in drugs.
"The effect of your conviction is you've been found guilty of participating in the distribution of this evil drug.
"Heroin is a scourge on our society and in particular on the lives of young people.
"Those involved, once brought to justice, should expect significant sentences of imprisonment."
Gambling debt
The jury was told Hutchison had only recently completed a five-year prison sentence for smuggling 2kg of cocaine onto the island of Jersey in 2009.
The judge commented: "It would appear, in similar circumstances, you've not learned from that."
During his two-week trial, Hutchison claimed that he did not know that the bag he collected from a contact in Liverpool contained heroin.
He said that a loan shark had asked him to up pick up counterfeit banknotes in return for settling a £1,350 gambling debt.
However, the jury did not believe him and returned a unanimous verdict finding him guilty as charged.
Hutchison was caught as part of Operation Lapstone, a major surveillance operation run by Police Scotland's Organised Crime and Counter Terrorism Unit (OCCTU).
'Deeply involved'
The operation is still ongoing.
Det Insp Graeme Naysmith of OCCTU said: "The recovery of such a significant amount of heroin from Mark Hutchison highlighted his role in the distribution of harmful drugs into our communities.
"We have no doubt that Hutchison was deeply involved in organised criminal activity and as a result of extensive surveillance and intelligence-gathering by the OCCTU, he was detained, charged and subsequently convicted for his crimes.
"Police Scotland continues to target serious and organised crime offenders as one of its top priorities and those responsible for crimes of this nature should be left in no doubt that we are using all resources at our disposal and working alongside our communities and relevant partners to bring you to justice."
Police in Dumfries and Galloway also welcomed the sentence.
"For the second time this week we see a long jail term being given out to someone concerned in drug dealing," said Det Ch Insp Colin Burnie.
"Again a large quantity of drugs has been stopped from reaching our communities and reinforces our priority in Police Scotland to tackle the vile drugs trade with vigour."