Maps from Robert Burns' time go on display in Dumfries and Annan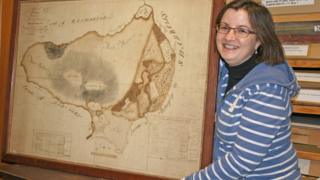 Hand-drawn maps of Dumfries and Galloway from the time of Robert Burns are going on public display.
The Dumfries Archival Map Project (DAMP) was set up to digitise as many pre-Ordnance Survey maps as possible, starting with Nithsdale.
The group believe there are several hundred of them still in existence, offering a unique time hop into 18th Century history, geography and society.
Dumfries and Annan museums are hosting events before a full exhibition.
Museums officer Fiona Wilson said the old drawings could be put over modern maps, making for interesting comparisons.
The full exhibition will open at Dumfries Museum on 12 March, then tour to Annan Museum later in the year.
A selection of maps is being put on display in Dumfries on Thursday and then in Annan on 28 January.
Archie McConnel, part of the DAMP group, said: "With the help of these early maps we can imagine the landscape Burns saw.
"These old maps allow us to see where we have come from.
"They may be the closest that we can get to time travel."