Casualties recovered in Dumfries and Galloway hill rescues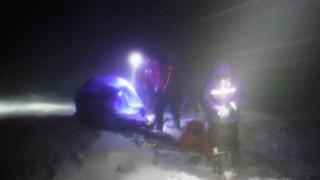 Mountain rescue teams were called out to rescue two casualties from hills in the south of Scotland over the weekend.
As snow began to set in on Saturday, the Moffat team had to stretcher a woman off Criffel near Dumfries after she suffered a broken leg.
At the same time, the Galloway Mountain Rescue unit was helping to airlift a 65-year-old woman to hospital after she broke an ankle on Cairnsmore of Fleet.
They also rescued a missing walker in the Galloway Forest on Sunday night.