Spine Race runners rescue man lost in Scottish Borders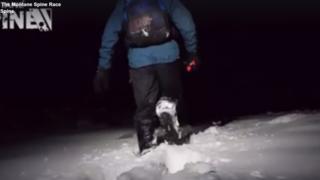 Athletes taking part in what is billed as "Britain's most brutal race" helped to rescue a walker lost in the Scottish Borders in freezing conditions.
The competitors took the mountaineer, who was suffering from hypothermia, to their next checkpoint along the Pennine Way where he was treated by medics.
A local mountain rescue team said he was disorientated and had stripped off layers, thinking he was overheating.
The Spine Race is a 268-mile race from the Peak District to southern Scotland.
The Border Search and Rescue Team said it was called out at about 05:40 on Saturday in what were said to be atrocious underfoot conditions and extreme weather.