Peebles Hydro Hotel seeks 'Head of Fun'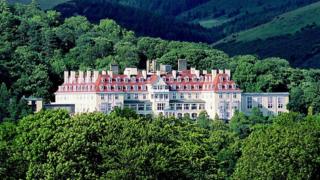 A historic hotel in the Scottish Borders is seeking applications for the position of "Head of Fun".
The post is being advertised at the 125-year-old Peebles Hydro.
General Manager Patrick Diack said he could not think of a better time of year to recruit for the post.
He said Blue Monday on 18 January, which is meant to be the gloomiest day of the year, might inspire some "amazing applicants" for the "energetic and creative" job.
The successful applicant will take the lead on "all the fun things" to do at the hotel, including running its Bike Zone and creating activities for its Kids Club.
"The position is certainly not a desk job, this is a hands-on position for someone who gets a kick out of bringing a smile to the faces of people of all ages and is adept at connecting with people," Mr Diack said.