How to foot the bill for flooding in Dumfries and Galloway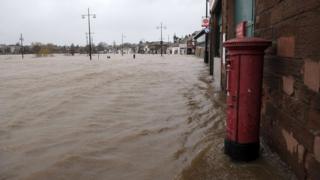 The flood waters may now have receded in Dumfries and Galloway, but the row over how to help those affected refuses to subside.
Tempers burst their banks once more at the Scottish Parliament this week.
After Storm Desmond and Storm Frank, it was Storm John - Scotland's deputy first minister - who struck.
Mr Swinney told the region's Labour council administration to pay out £1,500 grants to property owners affected immediately and "stop finding excuses".
What provoked his ire was a question from Dumfriesshire Labour MSP Elaine Murray asking why "cash-strapped councils" should pay for the flood relief from their own reserves "on the basis of an IOU".
She said the Scottish government should make payments as soon as possible to help allow councils to assist "hard-pressed" households and businesses.
But Mr Swinney responded saying there was "absolutely no issue" about local authorities having to wait for the money.
"I have a list of other schemes which are paid out to local authorities by the same means and it didn't stop local authorities paying out the money," he said.
The fault lines in the relationship between the SNP government and the Labour-led council have been visible for some time but this was a major tremor.
The local authority has repeatedly warned that savings targets it faces mean that it is no longer a question of whether it cuts services - but rather one of which services it cuts.
It has pointed the finger at a reduction in Holyrood funding.
The Scottish government, in response, says it has been fair to councils which it says have been much harder hit in England. It also argues that a reduction in their revenue has to be seen in the context of spending increases in other areas.
But the issue of flooding is a particularly contentious one in Dumfries and Galloway.
The council could feel it faces a two-pronged attack.
Its plans to build defences to tackle long-term problems on the Whitesands in Dumfries have proved unpopular with some businesses and residents.
A petition against the measures gathered thousands of signatures.
This latest spat underlines just how big a deal coping with these dramatic spells of bad weather has become.
Everybody says they want to help the people affected but there is not always agreement on how to do so and who should foot the bill.
Ultimately, the man or woman on the sodden street does not really care where their assistance comes from, as long as it is provided quickly.
A tetchy exchange in the Scottish Parliament showed that is what politicians want to achieve too.
Hopefully they can agree on the best way for that to happen in future because, sadly, flooding problems look likely to be a major issue for many years to come.