Former MP Michael Moore takes on Borders Book Festival role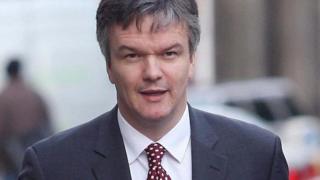 Former Scottish Secretary Michael Moore has taken up a new role as chairman of the Borders Book Festival.
He takes over from Francis Hamilton who stepped down after the 2015 event after 12 years in the post.
Mr Moore served as a Lib Dem MP in the Borders from 1997 until last year when he lost out to the SNP's Calum Kerr.
He said he was "honoured and delighted" to become the chairman of what he considered to be one of the "jewels in the crown" of the Borders.
Mr Moore said: "I look forward to helping in any way I can as the festival continues to go from strength to strength.
"Taking over this role now is very straightforward - the hard work has been done over the past 12 years by Alistair Moffat, Paula Ogilvie, Francis Hamilton and many others to make the festival the great success it is.
"I pay tribute to the brilliant job done by Francis in supporting what Alistair and Paula have done year after year.
"As chairman, Francis will be a tough act to follow, but I am delighted that he will remain on the board as a trustee."
'Great commitment'
The announcement comes as the festival unveiled plans for a special focus on youth events along with a weekend of Medieval re-enactment this summer.
Festival director Mr Moffat said: "We are delighted that Michael has agreed to join the team at the Brewin Dolphin Borders Book Festival.
"He has shown great commitment to what we do and will bring a wealth of experience to the role as chairman.
"Francis has been a great colleague and chairman over the past dozen years and I am really pleased that he will continue to offer us support and advice as a member of the board."
This year's festival in Melrose runs from 16 to 19 June.