Borders Railway benefits must reach 'every element of society'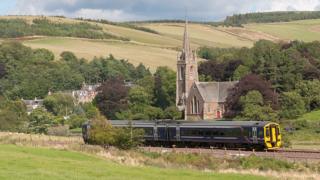 A senior officer on Scottish Borders Council has said as many people as possible must "reap a benefit" from the new rail link to Edinburgh.
Rob Dickson said the line between Tweedbank and the capital, which opened last year, had proved a much greater success than anticipated.
He said that put the region in a "unique position" in Scotland.
Mr Dickson said he believed that could bring an economic boost to the central Borders and further afield in future.
"Isn't it just fantastic to go into the new year with such a successful railway with four or five times better patronage than was anticipated?" he asked.
"One has to look forward to the economic benefit of that to the central Borders and beyond over the coming years.
"We are in a unique position in Scotland, I think, to have had the infrastructure investment that we have had and to be on the cusp of, we hope, some quite significant changes in development in the Borders."
He said he wanted to see those benefits reach as many people as possible.
"I want to see the economic benefits across the widest area possible in the Borders," he said.
"I hope every single element of society in the Borders can reap a benefit from the railway."