Plans under way for Dumfries and Galloway's rural mural project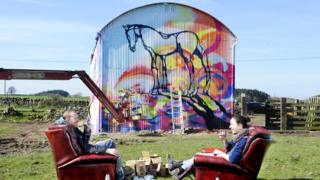 The search is on for artists and suitable structures for 2016's Spring Fling Rural Mural project in Dumfries and Galloway.
April will see the return of the international artistic collaboration who paint large-scale murals on everything from barns to tractors.
Plans are under way to create murals in Dumfries and Galloway, as in 2014 - but also in Glasgow and even Germany.
The project gives artists a chance to display their work at home and abroad.
Germany has been a particular focus for Spring Fling - it held an exhibition in Berlin in 2015 giving Dumfries and Galloway artists a chance to showcase their work in front of an international audience.
The organisers are looking for suitable sites in Dumfries and Galloway for the murals - ideally buildings visible from the road on or near the Spring Fling routes, and large vehicles with a smooth surface that can house a travelling mural - and artists to take part.
2014's rural mural locations included:
• Carrutherstown Barn, Mayfield Cottage, Carrutherstown
• Dalton Pottery Gable End, Dalton Pottery Art Café, Meikle Dyke, Dalton
• Keir Gable End, Valeswood Cottage, Keir Mill, Thornhill, Dumfries & Galloway
• Old Torr Gable End, Torr Farm, Auchencairn, Castle-Douglas
• Newton Stewart Barn, The Hayshed, East Knockbrex Farm, Newton Stewart, Wigtownshire
• Stranraer Electricity Sub Station, Stranraer Harbour Stranraer. In the car park between Market Street and Queen Street.
The SFRM project, which will form part of Scotland's Year of Architecture, is organised by Upland, a community group for local artists, and Glasgow-based street art and mural specialists Recoat.
Clare Hanna, director of Upland, said the 2016 project would be "even brighter and more fun than before".
"Right now we are looking for interesting sites and for locally-based artists to work alongside an international team of Scottish and German mural-makers," she said.
Amy Whiten, Recoat manager, added that it would bring "the chance to raise the profile of Scottish art in other parts of the UK and in Germany".