Carlops piper Jak Kennedy realises South Pole piping dream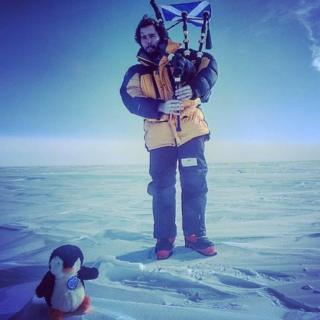 A piper from the Scottish Borders has realised his dream of playing at the South Pole.
Jak Kennedy, 29, from Carlops, completed his mission earlier this month.
It took him seven days to complete the 70-mile (112km) sled journey to his destination.
He was able to play Scotland the Brave before a valve on his pipes froze up and thwarted his efforts to play a second tune.
"I suppose the ambition at first was just to get to the South Pole and that is something I had been thinking about for years," he told BBC Radio Scotland.
He decided to combine his ambition with his piping skills to create a "true Scottish experience at the Pole".
The journey itself proved to be a challenging one in temperatures which dropped as low as -49C.
"It was very interesting conditions," he said.
"It took us about seven days to get about 112 kilometres with 50 kilos on a sled and we encountered some serious cold temperatures.
"You have to really respect the continent in terms of the weather."
'Toughest performance'
His team eventually reached its destination and Mr Kennedy said scientists in the nearby research station turned out to hear his performance which was not as long as he had hoped.
"I played my first tune, Scotland the Brave, and after that I thought I will have another go," he explained.
"But actually the valve that lets the air in, after one tune that froze up solid and I couldn't play again."
Overall, however, he said he was pleased with his playing.
"I wasn't going to win any prizes for the actual tune because the frost did affect it a little bit, my fingers weren't as fast as normal," he said.
"I think I did OK, I think I passed but I wouldn't put it as my finest performance but definitely the toughest."