Fake vodka in the Scottish Borders contains industrial alcohol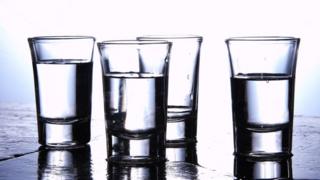 Scottish Borders Council has issued a warning about counterfeit vodka containing industrial alcohol.
The issue came to light after its food, health and safety team analysed a bottle following a public complaint.
It was found to contain industrial alcohol which can include dangerous chemicals like those in anti-freeze, screen wash or nail polish remover.
The council said people should be wary of buying any fake goods especially when there was a health risk.
"Drinking industrial alcohol can cause serious health problems and must be avoided," said councillor Ron Smith.
"In this case the counterfeit vodka was sold as a recognised brand but fake spirits can also be sold as brands people may not have heard of.
"Counterfeit and fake alcohol is usually sold at knock down prices and if you are offered any, either as a retailer or consumer, you should be aware that it could well be fake."
He said signs to look out for included poor quality labelling, including spelling mistakes, and bottle caps where the seal appeared to have been tampered with.
"Our advice is to always buy from a reputable off licence premises or supplier," he added.
Anyone who believes they may have a suspect product should contact the council's food, health and safety team.