Council to lose out after row over teacher numbers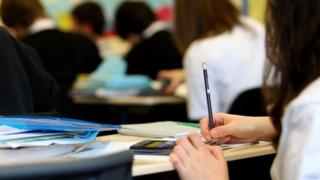 Dumfries and Galloway Council is to lose out on £300,000 of government cash after a fall in the number of teachers.
This year's council funding deal included cash to maintain teacher numbers.
Dumfries and Galloway is one of 10 areas where the number still fell. On teacher census day earlier this autumn, the council had 1,504 teachers - down from 1,520 last year.
The council described the government's decision as an "absolute scandal".
It argues part of the the drop was because of difficulties filling vacancies and was not a deliberate, planned reduction.
It also claims that the council was not allocated as many trainee teachers as it had asked for, again reducing the total number.
The latest council funding deal included cash for councils to maintain teacher numbers and used a carrot and stick approach. Some of the cash was due to be made available to councils in January if numbers were maintained.
Nationally the number of teachers fell by just three - virtually a standstill figure compared to years of significant falls . Teacher numbers fell in 10 council areas but rose or remained static in 22.
Dumfries and Galloway is the first council to publicly confirm it will lose out on the cash.
It is angry about this and claims its fall was the result of recruitment difficulties - not deliberate moves to cut teacher numbers.
It says a scheme to try to help council staff with the appropriate skills and qualifications to retrain as teachers has been praised nationally.
Cllr Jeff Leaver, chairman of the education committee, said, "It's an absolute scandal that the Scottish government has chosen to punish Dumfries and Galloway Council for teacher numbers.
"We have the second best teacher/pupil ratio in Scotland, and have continued to consistently apply the same staffing formula. We did not implement any budget savings impacting on teacher numbers.
"To overcome difficulties in recruiting to a largely rural area, we have continuously worked to recruit teachers to vacant positions. And, our 'grow your own initiative' has been nationally praised.
"And yet, at a time of unprecedented financial pressure, because of a ludicrous snapshot of teacher numbers on one particular day, the Scottish government has unreasonably chosen to punish the education sector in Dumfries and Galloway, depriving local children of £303,000 for their education."
He added: "This is exactly the same Scottish government that refused to provide us with the additional 19 trainee teachers that we asked for. And now, to cap it all, the Scottish government has imposed upon us a moratorium on recruiting teachers."
'Significant investment'
A Scottish government spokesman said it is committed to maintaining teacher numbers as part of a efforts to improve attainment.
"Every local authority, including Dumfries and Galloway Council, was allocated an appropriate share of £41m additional funding provided to meet the agreement to maintain teacher numbers," he added.
"Each council was also advised that it would receive a share of an additional £10m if it met the terms of the agreement. No money has been withdrawn from any council but those councils which did not meet their side of the agreement are not being allocated a share of the additional £10m.
"This is only fair to all those which did meet the terms of the agreement to maintain teachers."
He added: "The Scottish government has provided additional funding to support the 'grow your own' initiative in Dumfries and Galloway and we would encourage every local authority to recruit the teachers that they need to meet their commitments."