Firefighters tackle 'intense' fire at Dalton Pottery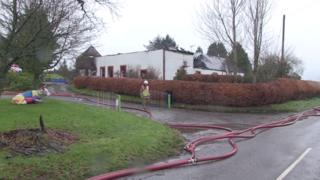 Firefighters worked into the night to battle a blaze at a pottery in Dumfries and Galloway.
Crews from Annan, Dumfries and Lockerbie were called to the "intense" fire at Dalton Pottery at 14:00 on Thursday.
The Scottish Fire and Rescue Service said firefighters were hampered by the presence of acetylene cylinders, strong winds and a poor water supply.
A spokesman added that the fire caused "significant damage" at the property.
At the height of the blaze, a 200m exclusion zone was put in place around the pottery and the B725 Dalton - Carrutherstown road was closed.
Firefighters wore breathing apparatus and used high pressure jets to battle the flames.
The fire service spokesman said crews doused the acetylene cylinders with large volumes of water before using thermal imaging cameras to check for hot spots.
"When it was confirmed that heat levels were normal, the cylinders were safely removed," he added.
One man suffered minor smoke inhalation in the blaze and he was detained at Dumfries and Galloway Royal Infirmary overnight for observation.
The fire service spokesman said crews were due to leave the scene on Friday afternoon, after extinguishing the fire.
Police Scotland said the fire was not suspicious.
Dalton Pottery closed as a visitor attraction in September, according to a statement on its website.
It now offers art and craft courses and self-catering accommodation.