Hawick flood defences could be delayed until 2023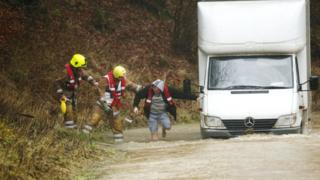 Hawick may not benefit from flood defences until 2023, according to Scottish Borders Council.
The warning came a week after its leader David Parker said a flood protection scheme could be operational within four years.
The local authority has insisted that the £30m scheme to defend the town against flooding is a "priority".
However, Hawick residents have been warned that construction work is scheduled to start in 2019.
If funding for the project is approved by the Scottish government, the flood defences should be complete by 2022.
A public local inquiry into the project could delay the scheme by between nine and 12 months.
Local MSP John Lamont was one of a number of politicians who called for work on the flood defences to be accelerated in the wake of Storm Desmond.
Around 600 people were evacuated from their homes in Hawick when the River Teviot burst its banks during the storm earlier this month.
Councillor Gordon Edgar, executive member for roads and infrastructure, said: "The people of Hawick can be assured that this project is a priority for the council.
"While Storm Desmond caused significant damage and disruption, it has ironically provided helpful information for the development of the scheme's outline design, which is currently taking place."
He urged Hawick residents with views on the scheme to get in touch with the council as soon as possible.
"It is absolutely crucial that people in Hawick engage with the council's project team during the outline design phase, to allow any concerns to be mitigated now," he said.
"Any objection raised after the outline design could lead to significant delays to the project."