Stow pronunciation to be fixed on Borders Railway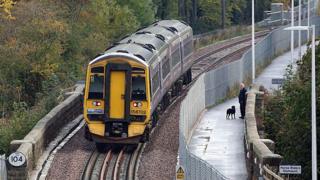 The mispronunciation of a Borders village on the region's new railway service will finally be fixed in the New Year, ScotRail has announced.
For more than three months, passengers on the Borders Railway have listened to recordings announcing a stop at Stow - to rhyme with toe.
Stow should be pronounced to rhyme with cow.
A ScotRail spokesman said new audio will be uploaded on to the trains by the end of the first week in January.
For most passengers on the new route between Edinburgh and Tweedbank, the error was a source of amusement rather than a major grumble.
However, earlier this year ScotRail communications director Rob Shorthouse admitted staff were embarrassed by the mistake.
He said: "In the rush to get everything up and running, we got all the recordings done and it just slipped through the net.
"It was a bad mistake and we are just really embarrassed about it in truth and we just want to get it fixed."
He added: "I can assure you everybody in ScotRail wants to get this one fixed as quickly as possible because it's one of those things that drives us mad that we got that wrong.
"There's a huge amount of effort being put into that one."