NHS Borders apologise over patient care failings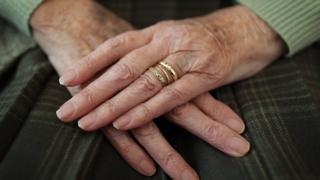 A health board has apologised to the family of an elderly woman with dementia after a investigation heard she was treated by staff who showed "no care or compassion".
It was one of a series of complaints made by relatives of the 91-year-old which have been upheld by the Scottish Public Services Ombudsman (SPS0).
She died at Borders General Hospital in Melrose in June 2014.
NHS Borders said they "apologise unreservedly" to the family.
A report by the SPSO said the woman, who they referred to as Mrs A, was admitted to Borders General Hospital with sepsis - a blood infection - on 9 March 2014.
Her family said that she was able to walk with a stick and she could feed herself.
By the time she was discharged to a care home on 5 April, she neither stand nor eat without assistance.
Her daughter, Mrs C, said that while she was in hospital, her mother was not helped with personal care - she was left in dirty clothes, her hair was not brushed and her nails were dirty.
She also complained that staff did not help her mother with eating or drinking.
Mrs C said that hospital staff did not consider the needs of her mother as a person, despite receiving documentation about her requirements from her care home when she was admitted.
Mrs A was re-admitted to the hospital on 13 June 2014, and she died two days later.
The SPSO investigation highlighted the actions of staff as Mrs A drew close to death.
The ombudsman's report said: "She [Mrs C] said the staff showed no care or compassion and seemed uninterested."
'Apologise unreservedly'
It added that the "family's needs were clearly not met" and the level of support provided by staff was "unreasonable".
The SPSO made eight recommendations, including a requirement to review nursing and leadership on relevant wards.
In a statement, NHS Borders chief executive Jane Davidson apologised to Mrs C and her family.
Evelyn Rodger, the board's director of nursing, midwifery and acute services, added: "I regret the poor care and treatment, our inadequate communication and the lack of support and compassion that the patient and family received.
"This year the board appointed to a nurse consultant post in dementia to provide a sustained focus on building knowledge and expertise in caring for patients with dementia, including the importance of clear, compassionate and timely communication between patients, their families and carers and our staff.
"We apologise unreservedly to the family."