Flood defences in Hawick by 2019, claims council leader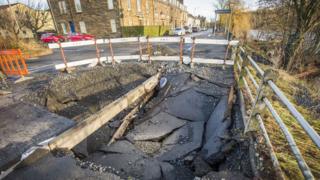 Flood defences could be operational in Hawick within four years, according to the leader of Scottish Borders Council.
David Parker said engineers were currently designing a multi-million pound scheme for the town.
Construction work is expected to begin in 2017 and the flood protection measures are expected to be in operation from 2019 or 2020.
About 600 people were evacuated from their homes in Hawick at the weekend as the River Teviot burst its banks.
Mr Parker said the scheme was "very, very significant" and the team behind it hoped to deliver it as soon as possible.
He added: "These schemes, by their very nature, are technically very difficult, they are very expensive and they're very big.
"What government in Scotland is keen to do is make sure they don't fail.
"We have seen a number of schemes down south failing because they have been done quickly.
"What we want to do is get the scheme right and make sure that we can deliver a scheme that will protect Hawick for the future."
Earlier this week MSP John Lamont wrote to the Scottish government to ask for work to begin on the flood protection scheme "immediately".
Paul Wheelhouse MSP and MP Calum Kerr said they would also get in touch with the Scottish government to see if plans already in place for new flood protection schemes could be advanced.