Hawick flood work 'must start immediately'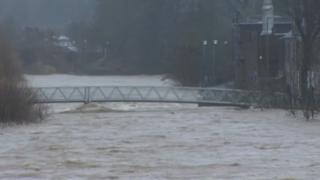 An MSP has called for work on a flood prevention scheme for Hawick to begin "immediately".
John Lamont has written to the Scottish government after hundreds of homes were evacuated at the weekend.
Scottish Borders Council has been working on a flood prevention scheme since 2010 and is currently developing outline designs for a preferred option.
The Scottish government said it helped communities to deliver "appropriate flood protection" for their areas.
Mr Lamont said he was backing calls from councillor Stuart Marshall to accelerate the process of implementing the flood plan.
He wants to see the funding process speeded up with central funding set aside for Hawick "immediately".
Mr Lamont has asked for officials from the Scottish Environment Protection Agency (SEPA) to help the council finalise the preferred flood prevention scheme within a strict timetable, published as soon as possible.
'Overwhelming case'
"The reaction of residents, volunteers and the emergency services over the weekend was fantastic, not just in Hawick but elsewhere in the Borders," he said.
"To see the damage caused by the Teviot was heart-breaking.
"With so many homes and businesses damaged in Hawick there is now an overwhelming case for a flood prevention scheme for the town."
Borders SNP MSP Paul Wheelhouse and MP Calum Kerr said they would also get in touch with Scottish government to see if plans already in place for new flood protection schemes could be advanced.
A Scottish government spokeswoman said its thoughts were with all of those whose homes and businesses had been affected by the serious flooding.
She said it supported flood protection work through its local authority capital grant and said funding would be distributed according to the priorities set out in flood risk management strategies.
"The Tweed Flood Risk Management Strategy, which includes plans for a flood protection scheme for Hawick, will be published by SEPA by 22 December this year," she added.
She said a flood protection scheme was currently being implemented in Selkirk which had received 80% funding from the Scottish government.
"The council is currently developing its preferred scheme for Hawick, and is seeking feedback from the public," she said.
"Under the new streamlined processes introduced by the Flood Risk Management (Scotland) Act 2009, schemes can proceed without approval from Scottish ministers."