Power firm urged to have 'open mind' on power line upgrade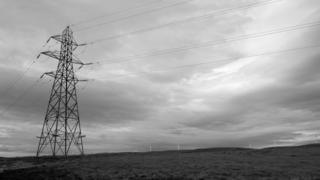 The firm behind plans to upgrade power lines in the south-west of Scotland is to be urged to have an "open mind" to alternatives.
Scottish Power Energy Networks (Spen) wants to build a new high voltage line between Auchencrosh in Ayrshire and Harker in Cumbria.
It has identified a preferred corridor through Dumfries and Galloway.
However local council officers said they expected Spen to "fully assess and appraise" other routes.
The existing plan would see the line run via substations at Newton Stewart, Glenlee and Dumfries.
Council officers have called on the firm to substantiate claims that the existing infrastructure is "nearing the end of its useful life" and that the 132kv network is "at full capacity".
In a report to members of Dumfries and Galloway's planning applications committee, officials said they expected Spen to consider alternatives to overhead lines.
They also want the firm to comment on a proposal for an undersea connection between Auchencrosh and the north-west of England.
Sensitive landscapes
The report recommends that councillors agree to submit a series of comments to Spen. They include:
It should take into account the views of local communities likely to be affected by the route
The economic impact, both positive and negative, of their proposals should be fully detailed
The importance of the regional landscape quality should be considered
"All possible" mitigation measures should be undertaken to avoid adverse impacts on sensitive landscapes
It should allow sufficient periods of time for submission of comments during the consultation process.
Earlier this year the energy firm pledged to scrutinise "every word of feedback" received during an initial 12-week consultation.
It said it had received more than 1,500 forms, letters and emails during the process.
There are expected to be another two rounds of public consultation on the project before any plans are submitted to Scottish ministers.