Borders Book Festival accounts reveal small losses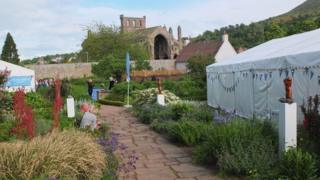 The latest accounts for the annual Borders Book Festival have revealed it made a small loss last year.
Trustees said the loss of £6,488 was a "manageable result" given the "positive overall cultural and economic impact" of the Melrose event.
The accounts cover the year to the end of February 2015, so they do not include this summer's festival.
The figures show "best-ever levels of ticket and book sales" but expenditure also showed "considerable increases".
The Borders Book Festival began in 2004 in Melrose and has found a permanent home in the National Trust for Scotland's Harmony House and Gardens in recent years.
Its aim is to "attract prominent authors, from around the UK and abroad, to speak to the widest possible audiences".
It also now includes the Walter Scott Prize for historical fiction as part of its proceedings.
Ticket record
Accounts for 2014/15 show income from commercial activities up by 11% compared with the previous year to a total of £164,894.
Grant income also rose sharply during Scotland's Year of Homecoming taking total revenue to nearly £250,000 compared with £204,817 in 2013/14.
However, expenditure also went up with advertising and printing costs and writers' fees and expenses showing an increase.
The largest rise reported was in consultancy fees.
"Ultimately, our festival should be judged on its ability to justify its role as a publicly supported Scottish charity," the trustees report concluded.
"Each year we succeed in selling record numbers of tickets and attracting record numbers of visitors to Melrose."