Pringle of Stichill baronetcy decision "finally" sought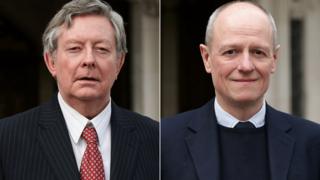 A man caught up in a legal fight over the right to a Scottish Borders baronetcy says he is glad judges have "finally" been asked for a decision.
Murray Pringle, 74, of High Wycombe, and Simon Pringle, 56, who lives near Hastings, both lay claim to the baronetcy of Pringle of Stichill.
The Queen has asked senior judges to make decisions under legislation dating back more than 150 years.
Their verdict is not expected until next year at the earliest.
Seven judges have analysed evidence and legal argument at a two-day hearing of the Judicial Committee of the Privy Council in London.
The judges, who are all Supreme Court justices, are due to return to court in January to analyse further legal argument from lawyers representing both men.
They are not expected to publish a ruling for some months.
'Line of paternity'
Judges have been told that Charles II granted the baronetcy of Stichill, a village near Kelso, to Robert Pringle of Stichill - and the "male heirs from his body" - on 5 January 1683.
The 10th Baronet, Sir Steuart Pringle - a retired Royal Marine commander who survived an IRA bomb attack - died in 2013 aged 84, judges have heard.
Now his son Simon, and Murray - Simon's second cousin - disagree over who should claim the title.
Lawyers for Murray Pringle say Simon should not become the 11th Baronet because there has been a "break in the line of paternity".
They say tests have shown that Sir Steuart's DNA "did not match that of the Pringle lineage".
Simon said his father and mother - Lady Jacqueline Pringle, who died in 2012 - had hoped that the dispute would have been solved in their lifetimes.
He said he was now glad that judges had been asked for a ruling.