Hygiene improves at Borders General Hospital theatres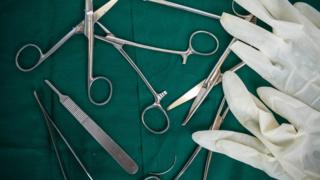 Hygiene in operating theatres at Borders General Hospital has improved since a critical inspection earlier this year.
The Healthcare Environment Inspectorate (HEI) said NHS Borders had met seven requirements for improvements.
Issues about hand hygiene, blood spillages and cleaning methods were highlighted following the unannounced inspection in May.
The health board drew up a detailed action plan for inspectors.
The HEI carried out an unannounced follow-up inspection at the hospital near Melrose in September.
In a report, the inspectorate said it noted a "marked improvement" in the theatre department.
It said the theatre environment was clean and staff had a good knowledge of "blood and body fluid spill management".
The report made one recommendation related to how body straps can be decontaminated to reduce risk of cross infection.
Evelyn Roger, the director of nursing, midwifery and acute services at NHS Borders, said the board would ensure the improvements are sustained.
She said: "As an organisation we responded immediately to the findings from the initial unannounced inspection and put in place a robust improvement plan which included the review of cleaning methods and documentation, and the introduction of a new training programme through which every member of staff has been assessed on their knowledge, understanding and practical skills in relation to the correct cleaning methods.
"The improvements observed by the inspectors reflect the hard work and dedication of the theatre staff, infection control team and other front line staff.
"We remain committed to ensuring that our patients receive the best possible care and are confident that our theatres reflect that commitment."
Chris Richard, consultant in anaesthetics and intensive care, said: "As the first hospital to be inspected as part of the HEI's dedicated theatres inspection program, we have had a unique scrutiny of our facilities and processes.
"I am delighted that we have satisfied all the requirements of the two inspections. This demonstrates the priority and effort that NHS Borders puts into matters related to patient safety."