Borders Railway bridge dispute taken to tribunal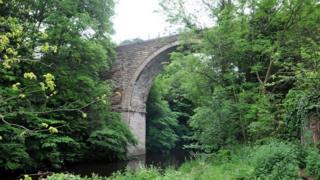 A charity is taking Network Rail to a tribunal over the money offered after the compulsory purchase of a bridge to carry the new Borders railway.
The Edinburgh & Lothians Greenspace Trust has been offered £10,000 for the Glenesk Viaduct in Midlothian.
It says that "woefully undervalues" the £300,000 it spent on preserving and maintaining the structure.
A Lands Tribunal hearing in Edinburgh, scheduled to run over two days, will examine the claim.
The Edinburgh-based organisation bought the viaduct in 1992 when it was under threat of demolition and turned it into a walking and cycle route.
The charity argues that, had it not bought and restored the bridge, it would have had to be replaced, adding substantially to the cost of the rail project.
It is seeking just over £570,000 at the tribunal.