Scottish Borders Council leader David Parker sees 'no real pain' in store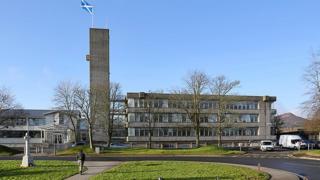 The leader of Scottish Borders Council has said he does not see "real pain on the horizon" for the authority despite facing significant spending cuts.
David Parker was speaking after local government body Cosla warned councils could see major budget reductions.
He said five-year savings of about £28m had been forecast a few years ago.
Mr Parker said a clearer picture of the situation would only be available after Chancellor George Osborne's comprehensive spending review.
However, he said he believed his authority should be able to cope with whatever was announced on Wednesday.
"We plan very carefully in Scottish Borders Council and we work very well with our partners to try and identify all the savings that we can through efficiency and other areas," he said.
"At the moment I don't see real pain on the horizon.
"But I don't have in front of me the outcome of the spending review and that spending review outcome will be what determines what we can do."
He said that towards the end of the year the impact of the review on the Scottish Borders should become clearer.
"We are planning for things being difficult, we always do," said Mr Parker.