Dumfries restaurateur Syed Naqvi ordered to pay £350,000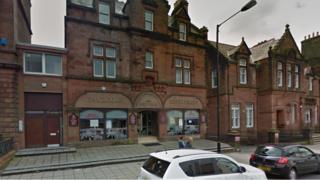 A Dumfries restaurant owner with a "criminal lifestyle" has been ordered to pay £350,000.
The cash will be seized from Syed Naqvi, 56, under the Proceeds of Crime Act following a ruling at Dumfries Sheriff Court.
It came after an illegal immigrant was discovered working as a waiter at the India Palms restaurant during a raid by police and the Home Office in 2011.
Naqvi admitted an immigration offence in September 2013.
On the same day as the restaurant raid Naqvi's home was also searched and officers discovered £120,900 in cash.
Lindsay Miller, the procurator fiscal for organised crime and counter terrorism, said: "Accused people, no matter if they are convicted at summary level or at the High Court, must now account for their unexplained income if they are deemed to have obtained a benefit from their criminality.
"By virtue of this conviction and the potential for substantial profit, under the Proceeds of Crime Act Naqvi was deemed to have a 'criminal lifestyle', which allows his full income and assets for the six years prior to the offence to be made the subject of a rigorous investigation by our specialist forensic accountants.
"The findings of that investigation could then all be taken into account when determining the amount of the confiscation order.
"In this case, the accused was found to be unable to provide a legitimate source for £350,000 of his income over that time, and today a confiscation order has been made for the that total, and with it a strong reminder of the reach and extent of the legislation."
The funds will be invested in the CashBack for Communities programme.
Carolyne Lindsay, of Home Office criminal investigations, said: "Naqvi thought he could profit from exploiting peoples' desperation to stay in the UK. He was wrong. The Home Office will continue to clamp down on employers that knowingly break the law."
Naqvi admitted facilitating a breach of immigration law at Dumfries Sheriff Court on 13 September 2013. He was fined £2,000.