NHS Borders criticised over care of terminally ill man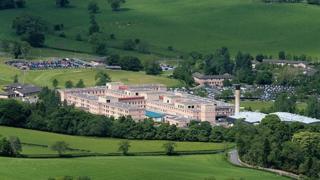 A terminally ill man was shown a "lack of compassion" and received "unacceptable" nursing care at a Borders hospital.
An investigation found that the man received such poor care at Borders General Hospital in Melrose, he discharged himself.
He died at home three days later.
NHS Borders said it accepted the recommendations of the Scottish Public Services Ombudsman (SPSO) and it had apologised to the patient's family.
A SPSO report said the man, referred to as Mr A, was admitted to hospital with a heavy nose bleed and in considerable pain.
His partner, Mrs C, complained that while he was in the medical assessment unit his bedside oxygen equipment did not work.
She said he was not given adequate pain relief or his own medication and he was shown a lack of compassion by nursing staff.
The ombudsman upheld the complaint, adding that Mr A, who had lung cancer, was in pain "for considerable periods".
The investigation also found a number of "serious failings" in his nursing care which was "unacceptable and poor practice".
'Distressing experience'
An adviser to the ombudsman said Mr A must have been frustrated that he could not take his own pain relief medication.
However, the nurses involved in his care "showed a lack of compassion for, or understanding of, his situation and feelings".
The ombudsman report said: "I am critical of the board for these failings and the lack of compassion shown to Mr A.
"I am concerned that he had such a painful and distressing experience, and I also acknowledge the upset and distress this caused to Mrs C."
It made eight recommendations, including that nursing in the medical assessment unit be reviewed to explore leadership and culture in the ward.
The ombudsman also said the board should apologise for its failings to the patient's partner.
Evelyn Rodger, the health board's director of nursing, midwifery and acute services said: "We take complaints made against NHS Borders very seriously and treat each one on an individual basis.
"We have apologised to the patient's family for the distress caused.
"We recognise and regret the aspects of the patient's medical care and treatment that did not meet expected standards and will take what has been learned from this experience to improve our services in the future."