Dumfries schools upgrade remit expansion agreed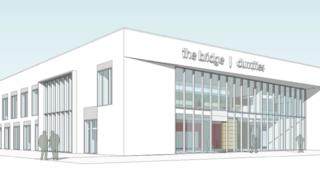 Councillors have agreed to a wider remit for the first phase of a major Dumfries schools overhaul which will see costs rise by more than £21m.
It emerged last week that forecast spending had risen from nearly £45m to more than £66m.
A number of elements originally planned later in the project could now be brought forward.
Education committee chairman Jeff Leaver said he believed the scheme remained deliverable.
The Dumfries Learning Town project is based on creating five new campus sites to tackle the deteriorating condition of existing schools.
'Learning hub'
The first phase would involve building a new school complex serving north west Dumfries to replace Maxwelltown High and include a new St Ninian's Primary as well as Langlands School for children with complex needs.
The site would also incorporate a community library and sport hub.
Also included in the first phase is the refurbishment of St Joseph's College along with the development of a new "learning hub" providing access to higher academic and vocational studies.
The hub would incorporate the Elmbank centre which provides support to pupils experiencing difficulties with mainstream education.
The council's policy and resources committee has now supported taking forward the enhanced proposals for the first phase.