Dumfries and Galloway refugee project team established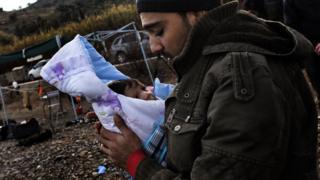 A project team is being set up to help with the resettlement of Syrian refugee families in Dumfries and Galloway.
The region is likely to receive around 20 families over the next five years.
Council leader Ronnie Nicholson said that although it was a "relatively modest" number it would mean their arrival could be supported as part of "ongoing life" of communities.
He said it was important the main support came from "neighbours and friends" rather than the council.
"We have an opportunity to provide safe new lives for people who have suffered unimaginable trauma in Syria, including torture, violence and persecution," he said.
"They had ordinary lives before the war in their country and we want to help them get back to normal lives.
"By hosting Syrians here we will enhance the diversity of our region and find willing contributors to our job markets and community life."