Scottish Borders decriminalised parking bid examined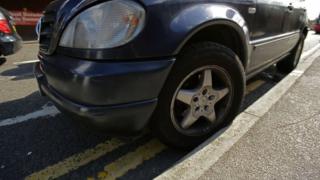 A working group has found the "best way forward" for the Borders after traffic wardens were withdrawn could be council enforcement of parking regulations.
The service was removed by Police Scotland in 2014.
A report to Scottish Borders Council said it had led to "reduced compliance, poorer traffic management and increased public complaints".
A working group said introducing Decriminalised Parking Enforcement (DPE) could be the solution.
The removal of the service prompted concerns of "mayhem" in town centres although Police Scotland pledged to continue to enforce parking regulations.
The working group was set up to examine the options available to the local authority.
'Commercially attractive'
It has now concluded that using DPE - which allows a council to undertake management and enforcement of on-street parking - could be the best way forward.
A number of other local authorities have already gone down this route but they tend to have been in urban areas where it was "commercially attractive to implement".
However, a report said that while such a scheme would probably run at an operating loss in the Borders there was no longer a requirement for them to reach a "break-even position".
It admitted that the service could be "unpopular with the public" but added that if it did not take the DPE option that problems with parking infringements could get worse.
It will be up the full council to decide whether it wants to take forward the move.
---
What do you think? Have parking problems increased since the removal of the traffic warden service in the Borders? Should the council step in to enforce regulations even if the service would not break even? Emailselkirk.news@bbc.co.uk.