Flood protection scheme for Whitesands in Dumfries approved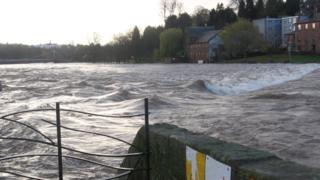 Councillors have backed a scheme designed to tackle long-standing flooding problems in the Whitesands area of Dumfries.
Thousands of people signed a petition against original plans for an embankment in the area.
Now a "raised walkway" has been proposed with a glass wall on top.
The total cost of the project would be about £15m and councillors have endorsed the project, which could be completed by 2019.
A walkway had been recommended as the "optimal solution" to the issues regularly experienced when the River Nith overflows, affecting nearby streets and properties.
Council officers had advised against a self-rising barrier due to technical challenges and environmental constraints.
Chairman of Dumfries and Gallloway Council's environment, economy and infrastructure committee, Colin Smyth, welcomed the decision to back plans for a raised walkway on the Whitesands.
"It is unacceptable that Dumfries is the largest town in Scotland that doesn't have a proper flood protection scheme," he said.
"Councillors have rightly said enough is enough - that needs to change.
"The unanimous support from councillors for the raised walkway design reflects the growing consensus that this is by far the strongest option which not only protects the Whitesands from flooding but also regenerates the area."